Profile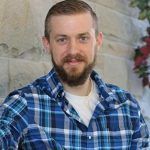 Mackenzie Graham
The Historian
Education:

Resurrection Secondary School (Waterloo, Canada), University of Western Ontario (London, Canada), Dalhousie University (Halifax, Canada)

Qualifications:

Master of Arts in Philosophy (Dalhousie University), PhD in Philosophy (University of Western Ontario)

Work History:

As a researcher: The Brain and Mind Institute (University of Western Ontario); Wellcome Centre for Ethics and Humanities (University of Oxford). (I also worked at a safari park in Hamilton, Canada during the summer while I was in university.)

Current Job:

Senior Researcher in Imaging Ethics, Wellcome Centre for Ethics and Humanities

Employer:

Wellcome Centre for Ethics and Humanities, Nuffield Department of Population Heath, University of Oxford; National Consortium for Intelligent Medical Imaging.
About Me

I am a researcher at the University of Oxford, working mostly in ethics and medicine.

Read more

I have been living in Oxford with my fiancee Siobhan and my dog Frieda for the last two years, after moving here from Canada (Frieda is a Rottweiler – boxer mix, and Siobhan is 100% human). When I'm not at work, I like to play golf and field hockey, go running with my dog, or play videogames. I try to go to watch football matches as much as possible (either Oxford United, or Crystal Palace). I also play the saxophone and guitar.

My favourite food is Lebanese (especially falafel), and I have a peanut butter and jam sandwich for lunch almost every day. (I never get tired of it). I think biscuits are much better here in England than in Canada, but crisps are much better in Canada than in England.

My work

How should we use new technology, to make sure that they benefit everyone? This is an ethical question, and is the kind of question my work tries to answer.

Read more

Most of my work has been about patients with 'disorders of consciousness'. These are people who have suffered a major brain injury, and cannot move or speak. Researchers have found that around 15% of these patients are still conscious. Using 'functional magnetic resonance imaging' (a tool that can show which parts of the brain are active at a certain time), these researchers have shown that some patients can imagine doing certain activities when asked. For example, when researchers ask them to imagine playing tennis, a specific part of their brain lights up on the scanner, and when the researchers tell them to stop, the brain activation stops. This shows us that the patient is understanding the instructions and following them.

My research focuses on the well-being of patients like this. What is life like for a person who cannot move or speak, but who can understand what is going on around them? Is this a life worth living? What should we do for patients like this, to help make their lives as good as possible? How should families make decisions for patients like this?

Recently, I have started working on questions to do with using 'machine learning' (AI) in medicine. Right now, this is about using computers to look at images of patients' bodies and brains, to detect abnormalities, and predict the course of illness. For example, by showing a computer thousands (or millions) of pictures of brains, the computer will be able to learn how to pick out possibly serious abnormalities. The hope is that this will allow doctors to offer better treatments. The challenge is that we don't fully understand how the computer comes up with the answers it does, so we may not be able to tell if it makes a mistake (or why). This brings up ethical questions like: why should we trust machine learning in medicine? Should everyone have to share their medical data, to help train the computers to work better? How will people feel about going to 'robot doctors', rather than human doctors?

My Typical Day

My work is a lot like writing a long essay for a class: research, writing, and presentation.

Read more

My job is to think about the ethical problems which come from using machine learning in medicine. This is fairly broad, so when I'm working on a project, the first step is to come up with a specific problem. First I spend some time researching the topic area, analyzing the arguments that have already been made. Then come up with a new idea or perspective on the issue, or show a problem with the existing view. Then I write out the argument as clearly and persuasively as possible in a paper. In some cases, I'll present this paper to colleagues at conferences or other meetings, before submitting it to be published in an academic journal. Then, other researchers can read it, and hopefully it provides answers to problems they are thinking about (or they disagree, and can offer a criticism in a paper of their own).

What I'd do with the money

"Creativity Olympics: Humans vs. Machines." Can an AI stack up against human creativity? Team up with your classmates to represent humanity against the machines!

Read more

I would like to organize an engagement activity in a school setting, where students take part in several 'creative challenges' (e.g., writing a short story, painting), and compare the results to what can currently be generated by AI algorithms. The goal of the activity will be to raise some questions about whether an AI can be creative in the same way a human can, and if their are any ethical questions about AI moving from tasks like performing complex calculations (which computers have always been good at), to doing things like writing stories, creating music, or even acting in movies. Or should these always be human activities?
My Interview

How would you describe yourself in 3 words?

Relaxed, humble, sarcastic

What's the best thing you've done as a researcher?

Working with amazing scientists on work that was the first of its kind in the world

What or who inspired you to become a researcher?

My first year undergraduate philosophy class; I liked thinking about and discussing problems with no clear answers.

What was your favourite subject at school?

English

What did you want to be after you left school?

A teacher, or a sportswriter.

Were you ever in trouble at school?

Sometimes. I wasn't always as respectful to teachers as I should have been.

If you weren't a researcher, what would you be?

Some kind of writing career, or possibly an ethicist in a hospital

Who is your favourite singer or band?

The Tragically Hip (a very Canadian band), or Iron Maiden. But its very hard to pick a favourite

What's your favourite food?

I like Mexican food, Lebanese/Mediterranian foor, and pizza.

What is the most fun thing you've done?

I've been skydiving once, which is exciting. But the most fun I've had is at large music festivals.

If you had 3 wishes for yourself what would they be? - be honest!

1) To be rich enough I could afford anything I want 2) To be able to play any song perfectly simply by hearing it once 3) To play basketball in the NBA (and be amazing).

Tell us a joke.

A dog walks into a telegraph office, picks up a blank form, and writes: "Woof. Woof. Woof. Woof. Woof. Woof. Woof. Woof. Woof." The clerk looks over the paper for a minute before telling the dog, "You know, there are only nine words here. You could add another 'Woof' for the same price." The dog shakes his head at the clerk in disbelief. "But that would make no sense at all."
---
---
---